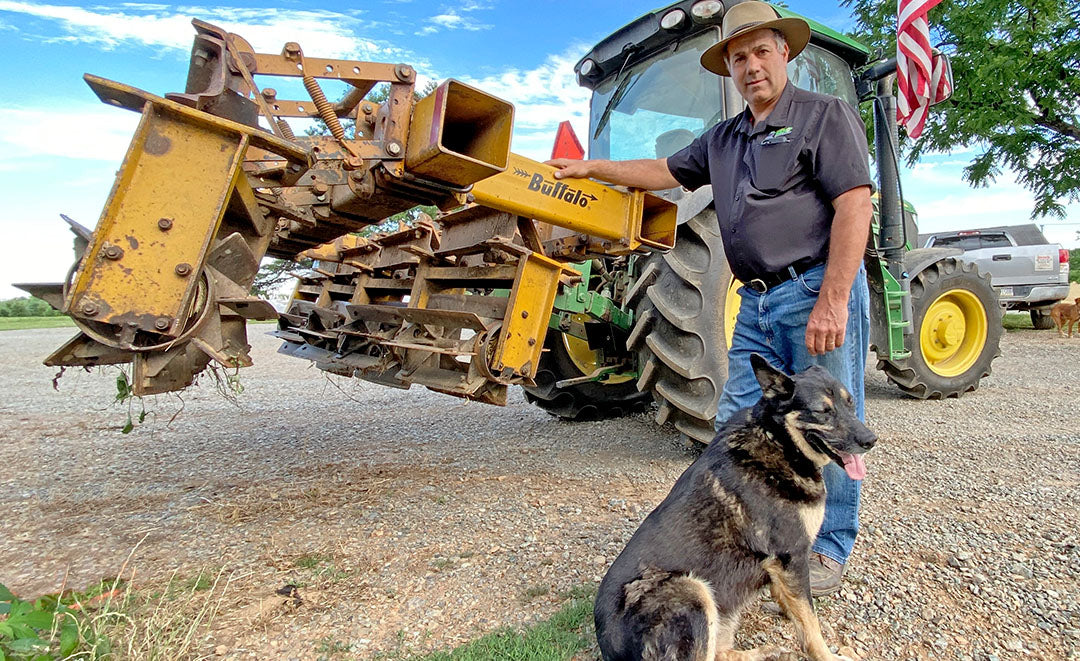 Why Soil Health Impacts Everyone
Most people don't think too often about the ground they walk on.
But the fact that you're here reading means that either you DO care, or are at least mildly curious. 😉
You probably fall into one of two categories:
The first group is people who think about the soil a lot and have an active part in caring for it, researching it, managing it and protecting it. You might be a regenerative farmer, agronomist or a soil scientist.
The second category likely doesn't tend the soil directly . . . but consumes produce and products that come from it. Directly or indirectly, we all are in that group. The difference is how much we consider the source of our goods – all the way back to the farming methods.
"Caring for the soil" involves farming methods that intentionally infuse life and nutrients into the earth. Year after year, season after season . . . and all seasons in-between . . . there are farmers who create "living soil" full of microbes, healthy fungi, earth worms and nutrients that are unique to methods called "regenerative agriculture."
These methods keep living roots in the soil "24x7 365." Doing this has massive rippling benefit to the environment, ecology and global climate.
Farmer, author, international speaker and consultant Steve Groff has been a pioneer of methods like "no-till" and "cover cropping" for his entire career.
His credits include:
the design of the first roller-crimper for cover crops in North America;
development of the Tillage Radish;
creating the first company in the world exclusively selling cover crop seed;
and Steve was the first commercial vegetable farmer to transplant tomatoes with no-till.
There are fields on Steve's 200-acre family farm near Lancaster, PA that have not been tilled since 1982. Instead of turning the soil over or leaving it barren, he plants crops during the off-season to cover the soil again during the winter months.
The constant cycle of planting creates an incredible root structure which prevents run-off during heavy rain. It also keeps the carbon where it belongs – in the soil by way of organic matter – rather than escaping into the atmosphere.
This style of farming also drastically reduces the carbon-emission inputs needed to farm, further benefiting the environment. 
If you're a soil-health expert, you know this already!
If you're a curious consumer, you're in a group that Steve calls "the boss of the future-proof farmer."
WHO'S IN CHARGE OF THE FUTURE OF FARMING
In his book "The Future-Proof Farm," Steve describes how today's educated consumers are the ones that will ultimately dictate which farming methods will rise in success.
He describes an account of a mom shopping for groceries, carefully reading nutritional labels to make wise and healthy decisions for her family.
"Meet your new boss," I tell fellow farmers as I speak to audiences about the virtues of cover crops and other environmentally sound agricultural practices. "Whether you like it or not, your future is in her hands."

Today, in the age of social media, many more people are talking about how their food is produced and questioning whether Big Agriculture has continued to chase the big bucks at the expense of their health and the planet's welfare.


As environmental and social awareness continues to take root in our society, many Americans sincerely want to do their part. They have been willing to spend more for food if they are convinced that it was grown responsibly by farmers they respect. As consumers take notice, the marketers follow suit – and so the trend accelerates.


"I'm not saying she's always right," I quickly add. "She doesn't know more about farming than you do, by any means, and what she thinks is the truth isn't necessarily so. She probably hasn't spent any time out on a tractor or tried to get by on a farmer's paycheck. That lady likely has no clue what goes into running a farm. She might not consider, for example, that those organic berries perhaps were trucked for thousands of miles, leaving a carbon footprint from coast to coast. She might not realize that those happy free-range chickens pictured on the carton don't look much like the ones that produce eggs at a price that she can afford."


"The thing is," I continue, "whether she's right or wrong isn't the point. What matters is what she thinks is right, because that's where her money goes. That's how she's filling her cart. She's the one who decides which farmers will stay in business. Don't think you can ignore the boss – because, well, the boss can fire you."


"What we really need to do is tell our story," I say. "That shopper isn't the only one who cares about responsible farming. Every one of you cares, too, and she needs to understand that we are on her side. That's why you can't go wrong with cover crops. She's not going to argue against something that protects and enriches the soil, that stops its nutrients from flushing away downriver, and that keeps pollution out of our waterways and nitrates out of her drinking water."


 "Once she learns what you're doing with cover crops," I tell the farmers, "the boss will see you as a hero."
THE HEALTH BENEFITS OF HEALTHY SOIL
The big benefit to consumers from nutrient-rich soil is "nutrient-dense" produce. 
"In the early 2000s, Ed Huling, a USDA researcher in Beltsville, Maryland, tested some of the produce from my no-till and cover cropped fields," Steve writes. "The results clearly showed my veggies had a higher nutritional density than the USDA average – meaning more nutrients in every bite."
By contrast, farming methods that till the soil, releasing or destroying any remaining nutrients, yield produce that is far less dense in nutrients.
Nutrient-dense produce may have other benefits as well, like reducing or eliminating the use of fungicides on crops, and even fruits and veggies that are more resistant to insects and disease.
Steve's nutrient-dense produce is sold at retailers like Whole Foods, Giant, Trader Joes and Blue Apron.
THE HOPE OF HEMP
In 2019, like many Lancaster farmers, Steve started planting CBD and fiber hemp when it became legal to grow under the 2018 Farm Bill.
However, unlike many farmers, Steve had the additional advantage of his exceptional soil at Cedar Meadow Farm thanks to his diligent year-over-year work in no-till and cover cropping.
So, it was the perfect time.
"Putting a plant as incredible as hemp into soil that is this rich in nutrients is like a match made in heaven," he says.
The overwhelming rush toward hemp created a glut in the northeast, and many farmers were left with an over-abundance of the product with nowhere to sell it.
Steve decided to push toward creating his own brand based on the uniqueness of his message and expertise.
"Steve Groff's Cedar Meadow Farm" CBD products may be one of the only brands rooted exclusively in regenerative agriculture and soil health.
"There may a few others with similar talking points," Steve notes, "but very few – if any – can claim decades of research and experience in using regenerative agriculture principles."
Along with Steve's longevity, he points to the fact that his products are "single-farm sourced."
"Most CBD out there comes from an assortment of hemp from various farms – and various soil health practices – so you're never sure exactly what's in the bottle."
"By contrast, everything in our products comes directly from my farm and my nutrient-rich soil."
MIMICKING NATURE: THE BENEFITS OF CBD
While CBD is becoming increasingly popular, Steve still encounters many questions about the products. What are they for? Who should use them, and why? 
To answer this, he goes back to his description of his farming methods.
"The practices we employ here are meant to mimic nature. In a forest, the soil is never turned over. Something is always growing. There are always roots in the ground, and everything just works. That's how the soil is intended to function."
"CBD helps the body function just like it was designed to, as well," he explains.
"Every body has a built-in endocannabinoid system which helps regulate things like sleep, anxiety and pain," he explains. "CBD simply rejuvenates that system so the body can function in a natural, healthy way."
BETTER SOIL. BETTER OIL. 
Steve has found himself at a unique intersection. His expertise and consistent message has placed him in constant conversation with experts in soil health and regenerative agriculture, as well as consumers who are passionate about the healthy sourcing of their produce and products.
When those conversations connect with folks who either use or have considered trying CBD, that's become a perfect landing point to explore how these two ideas merge. 
So far, the results have exceeded expectations.
One holistic nurse who has tried several other topical products before finding Cedar Meadow Farm reported, "I LOVE knowing how the hemp is grown and the farming practices applied to the land/soil. This is important to me and I appreciate the fact you know it produces a superior product while protecting the soil."
THE FUTURE-PROOF FARM
Steve plans to continue his widely popular cash crops and is constantly experimenting and researching how to produce better yields using innovative methods of no-till and cover cropping.
It's these methods, he argues, that will keep farms ahead of major trends in agriculture and food-production and help "future-proof" farms that would otherwise quickly become obsolete.
He speaks locally and internationally to help other farmers advance their efforts, and advocates for these methods that improve the overall health of our planet.
His CBD product line and book – along with a variety of educational material for farmers and consumers – is always available online at Cedar Meadow Farm.
---