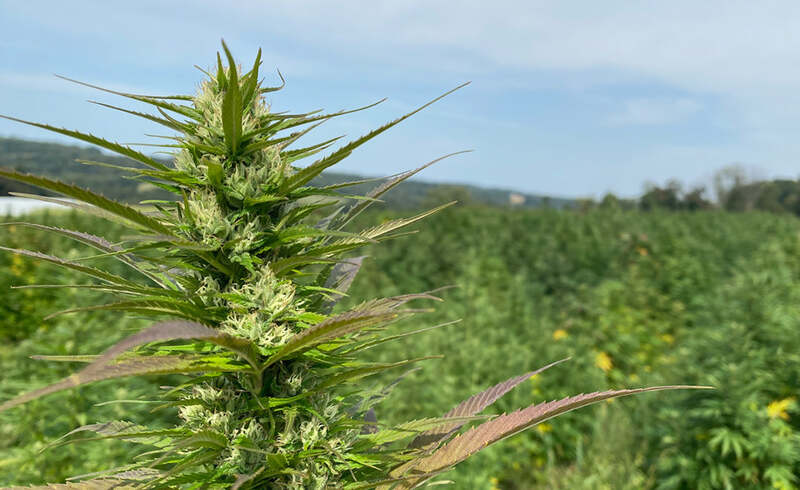 Is Lancaster, PA a Good Place for Hemp?
Growing hemp has gotten an increasing amount of notoriety, but it is by no means new. A majority of today's hemp used in popular CBD products is grown in western states like Colorado and California. 
But what about on the east coast? 
As it turns out, Lancaster PA is not only an ideal place to grow hemp - but there is a long and rich history of it as well. The past and future are full of both challenges and opportunities.
A Brief History of Agriculture In Lancaster
Lancaster County, home to the "Lancaster Plain" (an area roughly twenty miles wide and forty miles long), has some of the most ideal growing conditions in the United States. 
The Lancaster Plain itself has an unusually long growing season from 150 to just over 170 days1. And with over 40 inches of rainfall a year and a gentle landscape, the area has been abundant with lush farming for centuries.
Beginning in the early 1600s Pennsylvania, once referred to as the "breadbasket of America", was the country's leader in agricultural production2.
Agriculture was such a major part of Penssylvanian life that by the early 1800s over 90% of Pennsylvania workers were employed in the agricultural industry. This number had only decreased slightly to 77% by the mid 1800s. 
The Pennsylvania state legislature even funded transportation infrastructure (such as railroads and canals) so Pennsylvanian agricultural goods could be transported to a wider American market.
However, by the late 1900s farm land was being lost so rapidly to developers that the Commonwealth created the State Agricultural Land Preservation Board to try and save some of the nation's best farmlands. Within ten years more than 250,000 acres of farmland had been preserved.  
And while farming isn't as popular as it once was, to date Pennsylvania generates over $4 billion a year in income from its agriculture. 
Hemp Farming in Lancaster
With townships like East and West Hempfield, it's no surprise hemp has played a very important part in Pennsylvania's agricultural history.  When the Commonwealth of Pennsylvania was founded by William Penn in 1681, it was destined to be a major producer of hemp3.  
One of the first laws the Commonwealth passed just two years after its foundation was an act to legally compel every farmer to grow hemp4. This law also helped promote the growth of commerce by allowing hemp fiber to be used as currency. Farmers were now further incentivized to grow large quantities of hemp.
Hemp remained one of Pennsylvania's top agricultural industries for several centuries until it was effectively outlawed by the Marihuana Tax Act of 19375. Even though the legislation targeted marijuana, because hemp and marijuana are both grown from Cannabis sativa there was no legal distinction between the two until recently. This began over 80 years of prohibition.
The hemp industry in the United States remained prohibited until groundbreaking legislation in 2014 opened the doors to re-legalize hemp6.  The 2014 Farm Bill gave industrial hemp a legal definition separate from marijuana and gave states permission to decide if they individually wanted to legalize CBD hemp production.
Just four years later the President signed the 2018 Farm Bill into law, federally legalizing industrial hemp across the United States7. 
With nationwide federal legalization the CBD hemp industry saw unprecedented growth overnight.  In 2014 there were only 1,800 reported acres of hemp farms; this dramatically increased to over 90,000 acres in 20188. Pennsylvania alone grew from 50 acres of hemp in 2017 to over 5,000 acres just one year later9.
Because of the rush to enter the industry, in 2019 hemp production far surpassed consumer demands so much so that hemp filled warehouses across the US with no buyers. This extreme surplus caused a significant crash to CBD's value overall and hemp growers began to disappear almost as quickly as they had appeared the year prior10.
Hemp's Future With Lancaster Farmers
The hemp industry has begun to settle down since the initial boom: in 2021 farmers across the US reported almost a 40% decrease in total acres of hemp since 202011. Despite this decline, within the past few years Lancaster has been leading the state in hemp production once again12.
Furthering interest in Pennsylvania hemp, the Rodale Institute (a local non-profit focused on organic farming) has begun researching how hemp can improve organic farming through different avenues such as improving soil quality13.
This is the same Rodale institute founded by J. I. Rodale, whose organic methods Steve Groff's grandmother passionately practiced in her early vegetable gardens at Cedar Meadow Farm.
With the growth in the CBD industry many state and federal agencies are beginning to develop regulation that, until now, has been scant or non-existent. In addition to developing regulation for hemp growers, the Pennsylvania Department of Agriculture has even begun creating programs and funding hemp initiatives.14
The PDA also helped develop the PA Hemp Steering Committee to continue supporting industry research in hemp's uses and benefits.  
Despite growing pains within the industry, farms that have focused on the quality of their crops to meet both regulations and consumer needs (such as Steve Groff's Cedar Meadow Farm in Holtwood, PA) continue to have a strong foothold in the ever-growing CBD industry.
And just like they were centuries ago, Lancaster County farmers are once again leading the industry in quality hemp.
Sources
Pennsylvania Historical & Museum Commission. "Lancaster Plain, c. 1730–1960."

Pennsylvania Agricultural History Project

, 2015, www.phmc.state.pa.us/portal/communities/agriculture/files/context/lancaster_plain.pdf.

"Agriculture and Rural Life."

ExplorePAHistory.Com

, explorepahistory.com/story.php?storyId=1-9-4. Accessed 13 Mar. 2022.

Stark, Les. "Ten Things You Never Knew – PA Hemp History."

Pennsylvania Hemp Industry Council

, www.pahic.org/ten-things-you-never-knew-about-pa-hemp-history. Accessed 13 Mar. 2022.

Goldstein, Chris. "Pennsylvania's Hemp History."

Freedom Leaf

, 20 Feb. 2016, www.freedomleaf.com/pennsylvanias-hemp-history.

Gillhoolley, Andrea. "Hempfield Was a Hemp Farming Mecca and 4 Other Things About Lancaster County's History."

Lancaster Online

, 20 Apr. 2017, lancasteronline.com/news/local/hempfield-was-a-hemp-farming-mecca-and-4-other-things-about-lancaster-countys-history/article_7f1ba632-be13-11e6-be8a-c314a396dccd.html.

 

House Agriculture. "Agricultural Act of 2014."

Congress

, 17 Feb. 2014,

www.congress.gov/bill/113th-congress/house-bill/2642

.

House Agriculture. "Agriculture Improvement Act of 2018."

Congress

, 20 Dec. 2018,

https://www.congress.gov/bill/115th-congress/house-bill/2

.

Olson, David W., et al. "Hope for Hemp: New Opportunities and Challenges for an Old Crop."

Economic Research Service - U.S. Department of Agriculture

, 9 June 2020, www.ers.usda.gov/amber-waves/2020/june/hope-for-hemp-new-opportunities-and-challenges-for-an-old-crop.

"Pennsylvania Expands Industrial Hemp Research Opportunities."

Governor's Office

, 6 Dec. 2017, www.governor.pa.gov/newsroom/pennsylvania-expands-industrial-hemp-research-opportunities.

Drotleff, Laura. "2021 Hemp Outlook: Licensed Acreage Tanks 24% in 3Rd Year of Nationwide Production."

Hemp Industry Daily

, 8 Oct. 2021, hempindustrydaily.com/2021-hemp-outlook-licensed-acreage-tanks-24-in-3rd-year-of-nationwide-production.

Drotleff, Laura. "2021 Hemp Outlook: Licensed Acreage Tanks 24% in 3Rd Year of Nationwide Production."

Hemp Industry Daily

, 8 Oct. 2021, hempindustrydaily.com/2021-hemp-outlook-licensed-acreage-tanks-24-in-3rd-year-of-nationwide-production.

Stauffer, Heather. "Historic Hemp Powerhouse Lancaster County Has Many Farmers Trying the Crop This Year."

Lancaster Farming

, 5 July 2019, www.lancasterfarming.com/farming/industrial_hemp/historic-hemp-powerhouse-lancaster-county-has-many-farmers-trying-the-crop-this-year/article_8c71a0c7-b42a-5913-b97b-5c7dab27ebb8.html.

Lozano, Alicia Victoria. "Hemp Returns to Pennsylvania After 80 Years."

NBC10 Philadelphia

, 8 June 2017,

www.nbcphiladelphia.com/news/local/hemp-returns-to-pennsylvania-after-80-years/18695

.

Ruscitto, Andriana. "Potential in Pennsylvania: Building Hemp Markets Beyond Cannabinoids."

Hemp Grower

, 7 Feb. 2022, www.hempgrower.com/article/pennsylvania-department-agriculture-industrial-hemp-market-opportunities-construction-hempcrete-fiber-funding.
---